How To Attract More Leads On Autopilot and
Sell More of Your Products and Services
Love Sales Hate Selling -
Is your lack of knowledge making it difficult for you to generate leads for your business?
Are you struggling to start a conversation with potential clients?
Do you find marketing your business lots of hassle?
Love Sales Hate Selling -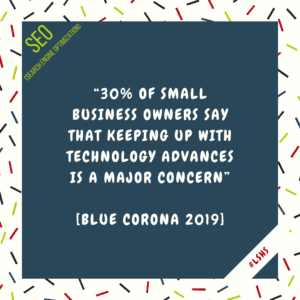 Well let me ask you a question,
If I could teach you how to create an online presence that
Generates leads for YOUR Business on autopilot
Boosts YOUR sales conversion rate
Automates part or all of your marketing
Would YOU be interested?
Well I have a solution Just For YOU
Love Sales Hate Selling -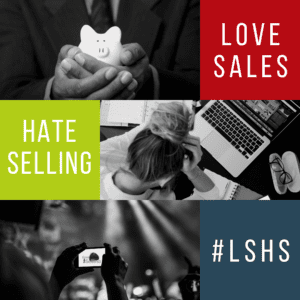 How to use your online presence to start attracting leads
Techniques to overcome sales objections.
Why you shouldn't waste money on facebook ad's
How to create a marketing system which will only cost you time.
......And Much, Much More
4 WEEKS
4 LIVE ZOOM*WORKSHOPS
(*ZOOM IS LIKE SKYPE, BUT IT WORKS.)
| | |
| --- | --- |
| Week 1 | Prospecting the right way and handling those objections |
| Week 2 | Communication is key in creating your lead generation machine |
| Week 3 | Now let's find those customers and check the ROI on what we already have. |
| Week 4 | Turn up the volume and check our results. |
PLUS – FREE BONUSES!
1. ACCESS TO RECORDINGS OF YOUR LIVE GROUP COACHING.
2. YOUR OWN SUCCESS PLAN – THE STRATEGY FOR YOUR SUCCESSFUL SALES JOURNEY, FOREVER!
3. 3-MONTH FREE 1-2-1 ZOOM SESSIONS FOR ONGOING SUPPORT.
OK! What's next?
"I want you to take advantage of now, by ensuring that your business is in a strong position when the world eventually gets back to normal."
Not sure this will work for you.
Love Sales Hate Selling -
Here's a client that I've worked with recently:
Client: Carolines Salon
Online Assets: None
Task: Create an online presence to attract leads and grow sales
How: By implementing the modules in the program, Caroline was able to take her business from a model that relied on deal discount sites to becoming self sufficient in less than 4 months
"comments that i have had from new customers is that my online assets look more professional than the competition..to Nigel and the team thank you for your help my marketing and sales knowledge has grown considerably." Caroline Laidley - Carolines Salon
HERE'S WHAT YOU'LL GET WHEN YOU ENROLL ON LOVE SALES HATE SELLING
30-minute LIVE 1-2-1 set-up call with me
4 x Bi-weekly 2-hour LIVE video workshops, with personal mentoring from Nigel
Open access to Nigel by email and LIVE Messenger throughout
Lifetime membership of exclusive Facebook Group with help videos, events and much more
Your own Success Plan to track and record progress
An accountability partner chosen from the other LSHS members
Testimonial Bubble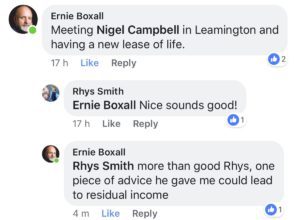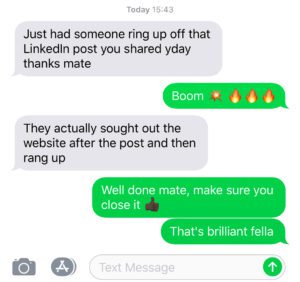 Frequently Asked Questions's
How long does it take to see results?
Well that answer entierly depends on you.
If your an action taker and you apply what you are shown on the program.
I would expect you to start seeing results within 7 days
What if it doesn't work for me?
The reason it should work for you is because i will be showing you a process which is used by the
bigger brands to attract more leads and convert more sales.
If it works for them, it will work for you.
I've seen similar stuff in the past—what makes this different?
Of course you will have seen similar stuff, I am not trying to reinvent the wheel:-)
The question you should be asking is, if you have seen similar stuff, but not taken action.
Then that is why you are still trying to grow your business.
I especially want to talk to you if the above fits you, as a few tweaks to your business could mean some quick success.
What if I don't have much time to spend on it right now?
Well if you want to improve your business, but you don't have time, then you have a bigger problem than just leads or sales.
Speak to me about hiring a virtual assistant, I know several brilliant ones.
Will it be a good fit for me?
The Love Sales Hate Selling Program is fluid and it is important that what I show you is relevant to your
growth strategy for your business.
This is why we have a discovery call first to establish whetehr it is indeed a good fit for you.
DON'T SETTLE FOR AVERAGE ANYMORE
MAKE YOUR PLANS FOR THE YEAR EXCUTIONABLE, MEASURABLE AND SUCCESSFUL
JOIN ME IN A JOURNEY OF DISCOVERY TO FIND ALL THE SALES YOU'LL EVER NEED!
THE LOVE SALES HATE SELLING PROGRAMME