You really should consider building a website for your small business,  no matter what industry you're in, it's essential in the modern-day to have a web presence. 
More people than ever before will find the service or product they're looking for through a search engine such as Google. It's a common misconception to assume that if you're a plasterer for example, that you don't need a website. 
However, that couldn't be further from the truth. It can be a brilliant way to showcase your work and impress upon potential customers the quality of your work
Building a website does not have to be expensive
Another big misconception is that if you want a website that you have to be technically-inclined and know how to code a website from the ground up. This, again, is far from the truth, there is an abundance of what is called 'content management systems' that allow you to design your website without the need to know how to code. On top of this, the interface is extremely user-friendly allowing you to drag and drop as well as inputting content in a simple text editor.
Best website builder
The most popular CMS to use to build your website for your business is WordPress. According to WordPress themselves, they power around 26.4% of the entire web. And every month over 1.1 million new domains are registered to the service. 
So why is it so popular?
First and foremost, the price. Compared to paying £500 or more for a website created by a designer, you're instead looking to pay £50-£150 maximum for a theme that allows you to customise your website to how you would like. 
Next, as we've mentioned already, it's extremely user-friendly and has allowed the everyday person to create a website.
Another big plus for choosing WordPress is the huge library of plugins you have access to. There are plugins, both free and paid, for anything and everything. 
If you need help with your SEO, there's a plugin for that, need a PayPal getaway set up? There's also a plugin for that. Making the most of these plugins will help you tidy up your site and start to generate traffic and visitors.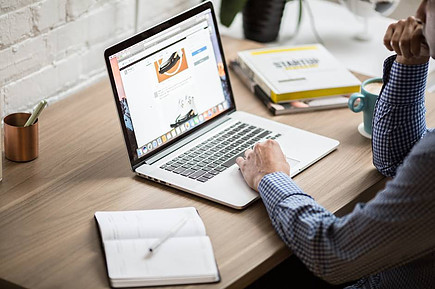 How to get started with WordPress
Building a website with WordPress can be done within an hour. Firstly however you're going to need to get yourself a domain name and hosting. 
You'll then want to install WordPress through your hosting provider, which will typically be on the respective marketplace.
Now you're going to want to choose a theme for your website. There are free themes available on WordPress. 
However, if you're wanting something a bit more bespoke or you're wanting to set up an online shop it's advisable to look at one of the more premium themes.
Which can cost between £49 and £159. From there once your theme is set up, get your menus set up, your pages set up and get to filling it with content.
---
Would You Like To Generate More Leads And Convert More Sales In Your Business?
In principle It is easy to grow your business, say the experts.
All you need to do is generate more leads and convert more sales.
But unfortunately, that is easier said than done for most small business owners.
You see most small business owners don't understand online marketing, they constantly feel overwhelmed by the constant barrage of information that is delivered to them almost daily, and they are tired of throwing good money after bad, chasing the latest marketing trend that is going to make them millions.
Is it any wonder that most small business owners quit their business after 3 years.
Well if this is YOU, it does not have to be like this.
Take a look below at what the Love Sales Hate Selling Academy can do for you and your business
Let me help You grow your business and remove the tech overwhelm that is stopping your business growth.
Ready To Generate More Leads And Convert More Sales
---