Why your business should have search engine optimisation in place
Having a website without SEO normally results in little or no visits to it.  You may as well leave it to gather dust. You want a website that is driving traffic organically through all of the major search engines. No traffic to your website means no visitors, no leads and no conversions. One of the best ways to try and increase the amount of organic traffic to your website is through search engine optimisation. It is the art almost of ticking all of the boxes that the search engines want you to. It's a job that is never done. With search engines such as Google constantly rolling out updates to their algorithms and what will help you rise up the ranks and what won't.
Optimising Your Assets
Integrating search engine optimisation is almost making the most out of your digital assets. Your website in itself is one of the most valuable digital assets you can have. It can potentially be the biggest lead generator in your business. However,  that all depends on how much use is made out of it. You'll find that unless you are paying for adverts on Google and Facebook you're not going to attract much traffic. This is unless you put the time and effort into your SEO. And any leads and conversions you get from your paid traffic your margins are initially squeezed due to the initial cost.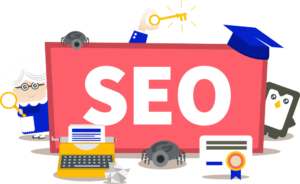 What does SEO consist of?
There are a lot of different areas when it comes to SEO, it's not as simple as writing a blog and putting a few keywords in. You need to look at internal and external linking, your SEO titles, meta descriptions, slugs, alt-tags for your pictures, the density of your keywords and much more. If that all seems a bit complicated don't worry. It takes time to pick up SEO however there are plenty of plugins to help you. They will assess your blog to see what boxes it ticks when it comes to both SEO and readability. Check out this blog post for a great SEO plugin that you can use on a WordPress website.
Search engine optimisation is never finished
However, if you really want to make the most out of your search engine optimisation keep an eye on updates to the major search engines. For example. if you click here you'll find Google's most recent updates which have been beneficial to a handful of industries but detrimental to a lot of businesses. That is the reason why SEO is never done and the requirements are always changing. However, the best thing you can do to start off with is getting the basics covered. This can allow the search engines to start indexing your pages.
You can easily learn how to SEO your website content
There is a wide range of plug-ins and software that you can use to Search Engine Optimise your business website yourself.
Many of my clients have saved money by doing the optimisation of their blog content themselves once I show them how to do it in the Love Sales Hate Selling Program
Would you like to learn how to optimise your own website content?
Well, get in touch, because if I can help you save some money by teaching you how to do it yourself, you can use that investment elsewhere in your business.
Small Business Owner Are You Struggling To Grow Your Business Online?
You can grow your business and remove the tech overwhelm, you just need to know what to do. If you are an action taker then The Love Sales Hate Selling Program could be just what you are looking for if you want to
Discover how to generate leads for your business for free

Learn how to overcome sales objections and generate more revenue for your business

Eliminate your fear of technology and learn how to easily market your business online
Plus a whole lot more, click the button below to take a look.

Alternatively, sign up for my smoke signals and grab your free copy of my report "10 Tactics To Grow Your Small Business Without Spending Any Money"