The importance of appointment scheduling
As a business owner or entrepreneur, you may find that your days consist of meeting after meeting. Whether you're meeting your business partner, a potential client, or even catching up with the team. With so much going on it can sometimes seem easy to forget about meetings you'd already booked. Although this can be understandable due to how much you have going on, it may not be as understandable to them. It could potentially lose your the chance of securing that deal, that customer, that partnership. That's why it's important that appointment scheduling is a priority within your business. Being organised in business a critical success factor and being on top of your appointments make up a huge part of that.
Appointment scheduling tools that are there to help you and your business
If you have found that you are starting to get lost when it comes to organising your appointments, don't worry. There are plenty of useful resources and tools out there to help you. These useful resources have been designed specifically to help you with your appointment scheduling and to help you become more organised. Due to there being such a need for this type of kit there is an abundance of options. With some being more useful than others. To save you finding out yourself, we have found some of the best appointment scheduling tools available on the internet which are the best alternatives to Calendly.  I did a post about How To Use Calendly for your Business take a look to get yourself set up with it.
Vocus.io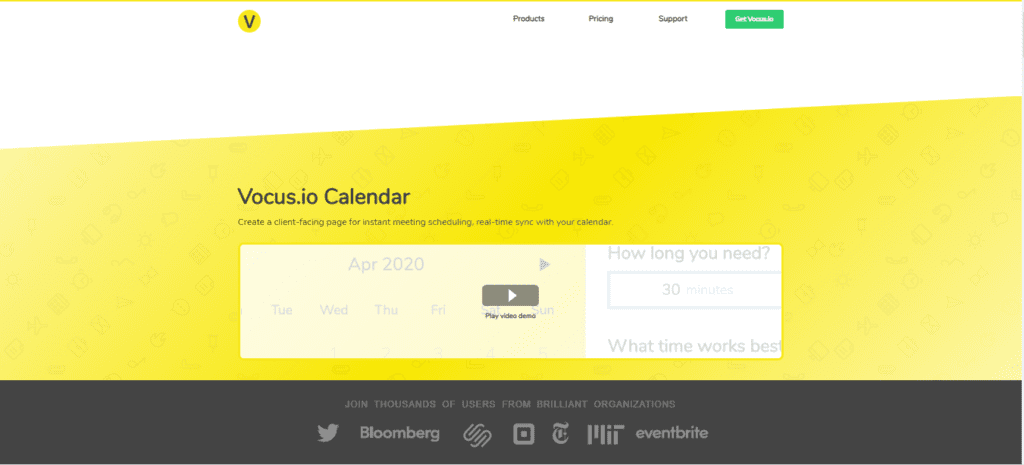 This first alternative option to Calendly we're looking at today is perfect for appointment scheduling. This innovative booking platform allows for you to specify what hours you are free for meetings to be booked each day. Meaning that you'll no longer have any unexpected meetings arise when you are busy. Vocus.io has a user-friendly interface that allows clients to choose from one of the available time slots and how long they want to meet you for. The second their appointment is booked this is put directly into your calendar. Also instantly blocking that slot off to avoid any double bookings.  What makes Vocus.io also stand out is that it can be integrated directly with your Zoom account.
ScheduleOnce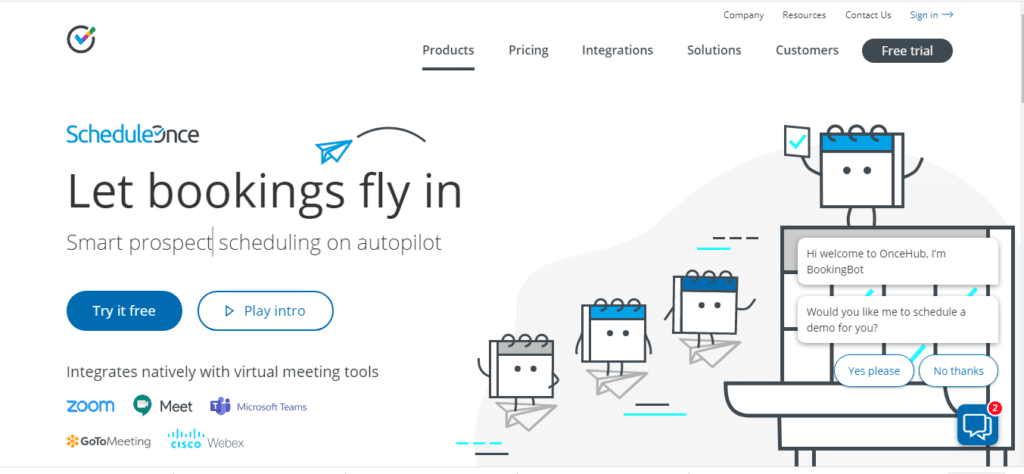 This innovative appointment scheduling software is absolutely perfect if you're a project manager or business owner. Its top-down approach allows you to focus, organise and schedule meetings for your whole team. This not only means that employees get regular engagement but also allows you to optimise their working time. It allows you to see their calendars and what time they have free. This means that you have more of an insight into the resources that you have at your disposal. If you are a  business owner or entrepreneur, ScheduleOnce is the perfect tool for streamlining your businesses resources.
Meetingbird
Despite looking like one of the more simple alternatives to Calendly, this piece of software is, in fact, one of the most effective. The developers behind this brand have struck the perfect balance between being user friendly and extremely effective. The interface screams simplicity and requires no learning curve at all. Meaning that anyone and everyone can jump straight in start appointment scheduling within their business. Meetingbird  is also an incredibly versatile piece of software easily integrates with applications such as your Google Calendar, Zapier, Zoom and much more. 
Honeybook
This piece of software is the perfect appointment scheduling tool for small businesses and freelancers. It's tailored to makes aspects of your business such as project and meeting management as seamless as possible. Its user-friendly design means that its customers don't have to take too much time out of their already hectic schedules to get used to it. It's autopilot feature also means that features such as booking appointments can be automated. Users can focus on other areas of their business resting assured that Honeybook is avoiding any potential meeting clashes. 
TeamUp
If you or your team run classes and workshops this is the ideal appointment scheduling tool for you. Its user interface allows for both new and existing clients to easily book onto your classes. It also provides a broad overview of each of your team members schedules. Allowing you to gain valuable insights and discover trends in regards to your consumer behaviour. It's also innovative in that it accommodates for a wide range of different payment methods when it comes to paying for classes or workshops. TeamUp acts as an all-in-one platform not only for meeting booking but also to be paid for. Removing the need to use another tool for payments and another system to learn and manage.
Why your business should adopt appointment scheduling into your business plan
No matter how big or small your business is, or even if you're a freelancer. It's absolutely critical to managing your schedule. Not only due to the reasons mentioned at the start of this blog. But also due to the value that it gives you. As well as giving you insights into consumer behaviour and avoiding meeting clashes. It also acts as a CRM system. With each booking providing you with email addresses that are perfect for any campaigns going forward. It also allows you to tailor certain campaigns towards specific clients. This avoids bombarding existing clients with non-relevant and what they could see as spammy emails.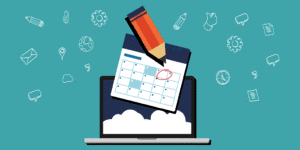 Small Business Owner Are You Struggling To Grow Your Business Online?
You can grow your business and remove the tech overwhelm, you just need to know what to do. If you are an action taker then The Love Sales Hate Selling Program could be just what you are looking for if you want to
Discover how to generate leads for your business for free

Learn how to overcome sales objections and generate more revenue for your business

Eliminate your fear of technology and learn how to easily market your business online
Plus a whole lot more, click the button below to take a look.

Alternatively, sign up for my smoke signals and grab your free copy of my report "10 Tactics To Grow Your Small Business Without Spending Any Money"