"Communication let me down and I'm left here"
You probably don't remember this old song from Spandau Ballet from the 1980s
But it fits perfectly with sales growth tip no 1 in your free report.
"10 Tips To Grow Sales For Your Business"
How are you communicating with your customers?
Communicating with your customers and prospects regularly
Is one of the hardest things to get right and do on a consistent basis.
It is the 21st century and there are so many ways that you can communicate with a customer.
Email
FB Messenger
Wats App
And so on and so forth
But would it not be better if they could find you when they want you.
And once they found you
You could then communicate with them when you want to.
Yes, I am talking about creating a list so you can communicate with your prospects more effectively.
Once I learnt how to communicate with prospects more effectively I managed to get 1725 email subscribers in 5 short months.
Communicating with your prospects more effectively?
Right now social media is still the number 1 way to get yourself noticed.
Posting and commenting regularly in groups and on other posts.
Doing videos, promoting good causes, helping others with their knowledge.
These are all excellent ways to drive more eyeballs to you.
If you keep an eye on what is working
But therein lies the problem
When people find you or your business on social media there is nothing for them to do.
You aren't providing them with one message or a clear call to action
And worst of all you are not aware of it.
Communicating with prospects using an OMOA social funnel.
Sales funnels are for tech-heads.
Every man and his dog is talking about sales funnels
What most people do not realise is that a sales funnel doesn't have to just be a landing page.
You can use all your online assets to funnel prospects towards your end location.
This is what most business owners typically get wrong.
• Social media accounts with incomplete profiles
• No photo's
• No branding
• No one targetted message…………
If you are lucky a prospect may find your social media profile and click-thru to your website.
But spoiler alert when they get to your website there is no clear call to action for what you want them to do.
What is it with websites which have 17 different things to do on the home page.
You know what I mean, take a look at your website then come back and tell me I'm wrong.
Sorry to be brutal.
The best websites have a strong headline a clear call to action an offer and an opt-in box to collect subscribers.
Nothing more, nothing less.
Have all your boring content on the 2nd half of the page.
So what is the solution…….
OMOA social media funnel can communicate with and grow your prospect list.
Yes, you heard me.
I did this and the results were astounding, I managed to go from 0 to 1725 subscribers in less than 5 months.
The worst thing is, I didn't realise until 5 months in that one of my opt-in forms was blowing up like crazy.
I found out when I logged into my mailing account and almost fell off my chair.
You see, I set up my first social media funnel back in December.
Did a little bit of promotion and then went back to my mundane life.
It was only when I logged in last week and saw my account that my world turned upside down.
You see the reason I did not realise what was happening was that I missed an incey wincey tiny piece of code off my website.
So I was not being notified that I was acquiring prospects like bees collecting honey.
I have fixed it now though
Anyway, I know this stuff works.
So how did I do it?
Let me walk you through the process.
I call this method, "One Message, One Action"
Think about that for a moment.
What does it mean to you?
Well for me it means, I want to create a message to my ideal client and I want them to take an action based on what I say.
Use a social media OMOA funnel to communicate with your prospects
So here goes
First I want you to create your one message, which you are going to take and use across all your profiles on your social media platforms.
So if you are a life coach and you specialise in working with young mothers who are struggling to get back into work, your profile could read
"Helping renew energy and positivity to new mothers or Helping young mothers regain the confidence to enter the world of work
Or if you're a builder it might be "Helping you create your dream extension to make your neighbours envious"
You get the idea, I'm no headline writer, but I guarantee if you look in your email inbox you will find some headlines that you can modify as your own.
Communicating and attracting more prospects with a free report
The next thing that you will need to do is create, modify, beg, borrow or steal (only joking), something that you can use as a giveaway.
So for example, the life coach above, could great a 10 point checklist of things that you need to think about before returning to work.
Or the builder could be offering information about the latest planning laws and 5 tips to get around them.
It does not have to be a Shakespearian epic novel, just something that goes well with your headline.
For example
"10 Tips To Grow Sales For Your Business"
"Sales Objection Handling"
If you need help with this then reach out to me on FB Messenger or send me an email.
Use canva to create your brand and communicate your message
Jump onto Canva and if you have not got a logo, create one today.
While you are at it, create a banner with a strong message to use on all your social media profiles.
You will have to play around with the sizes to get it just right.
But see this article for a quick guide to learn how to use canva in 5 minutes
Canva is such a powerful tool, I don't understand why more people do not use it.
Yes, there is far more powerful graphics software that you could use but Canva offers up so much versatility.
Creating a logo is easy, it does not have to be perfect, you can even use a template and modify it yourself.
Take a look here to learn how to use canva in 5 minutes
Next, go to all of your social media accounts and change the profile bio's so that they all have your one message that you created earlier.
It must have a clear call to action I suggest a click to your website and or landing page.
Finally, I want you to schedule some posts to your favourite social media scheduling platform
Don't worry there are a lot of free ones about take a look here — social media scheduling software/free/paid
Wherever you are sending people to it is important that you are able to monitor the stats, you need to be able to see how effective your Social media communication funnel is. I use google analytics and Bitly.


HOW TO SET UP BITLY
Goto BITLY.com
Register
Add a url
Bingo you have a tracking link that you can use in your profile, or online promotional activities
I repeat if you are sending people to your website it is important that you have analytics setup, you need to know what is going on.
It is very important that you are able to monitor the activity that will occur after you implement the above.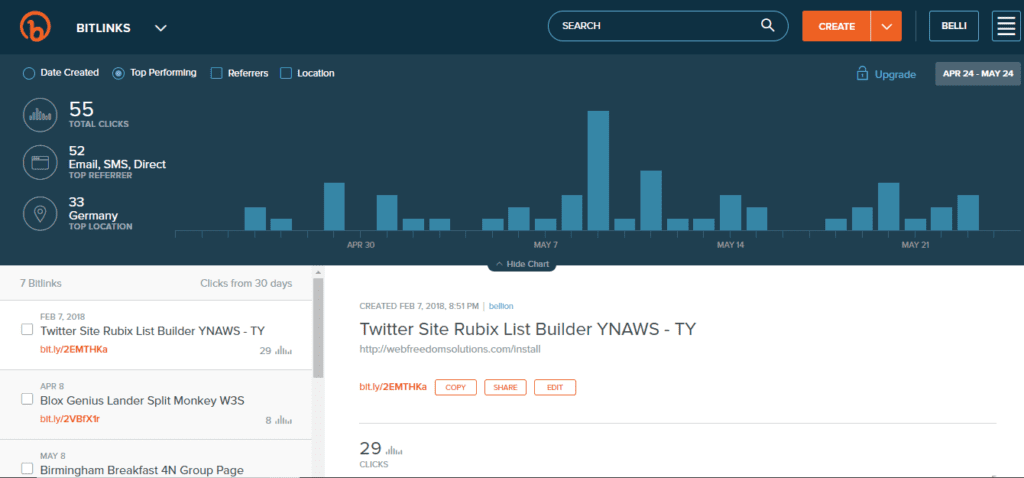 If you have started implementing this over a couple of days you will have noticed that your online activity has shot up slightly.
Whenever you make a change to your profile, people notice so it creates a little spike in activity to your end goal.
You will have maybe noticed that your online activity has shot up a notch.
If you have a website, I need you to change it.
I want you to change the homepage to nothing but a strong headline, with a clear call to action then finally I want you to add an opt-in box so you can start to collect subscribers.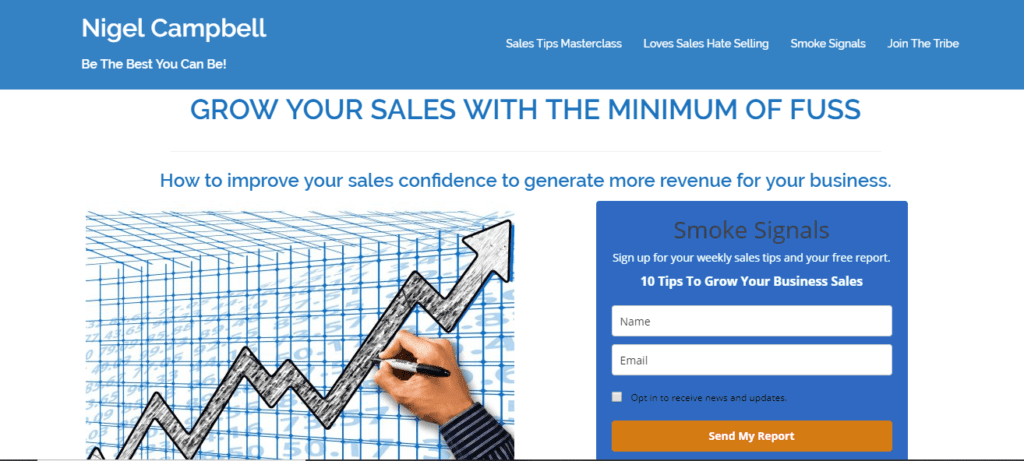 Now I know for many of you, this may cause a problem as you may not have any idea about coding.
But putting it simply, register with one of the many email marketing companies out there.
Sign Up
Create a form
Once you have created a form, you will get some code that you can insert onto your website.
Once you have inserted this code on your website then your opt-in form should appear.
If you can't do it, ask your web designer how to do it.
Once this is done you are in business, now all you have to do is increase your social media activity and then you will start to see some truly outstanding results.
By collecting subscribers you have solved the problem of communication.
You can now communicate with your customers whenever you want.
For a free PDF of the OMOA funnel setup click the link below.
================================================================
So what do you think?
Have you started setting up your OMOA social media funnel?
you may need to give it some juice in the beginning, I recommend that you schedule some posts in advance on Facebook
There are some free programs that you can use to schedule posts to your social media platforms
See this article here>>>>>>> Social media scheduling software/free/paid
A social media funnel is one of the things that I help you set up in the  Love Sales Hate Selling programme.
Small Business Owner Are You Struggling To Grow Your Business Online?
You can grow your business and remove the tech overwhelm, you just need to know what to do. If you are an action taker then The Love Sales Hate Selling Program could be just what you are looking for if you want to
Conquer your fear of selling face to face

Explore additional methods of driving revenue to your business

Automate your content creation to save time doing your marketing on social media.

Generate leads for your business for free

Learn how to overcome sales objections and generate more revenue for your business

Eliminate your fear of technology and learn how to easily market your business online
Plus a whole lot more, click the button below to take a look.

Alternatively, sign up for my smoke signals and grab your free copy of my report "10 Tactics To Grow Your Small Business Without Spending Any Money"